Campaign aims to mobilize new activists, hold big polluters accountable
Oct. 4, 2017 (PITTSBURGH, PA.) – PennFuture is launching a Toxic Neighbor citizen engagement campaign aimed at holding big polluters accountable and mobilizing a new generation of clean air activists in the Pittsburgh region.
The Toxic Neighbor campaign has two parts. The first part involves bus transit advertisements running in the East End of Pittsburgh targeting pollution from U.S. Steel's Clairton Coke Works, which has committed more than 6,700 air pollution violations over a 3.5-year period. The campaign leads citizens to www.toxicneighborpgh.org, where they can send a letter to Allegheny County Executive Rich Fitzgerald demanding he take action to protect clean air for our families and communities.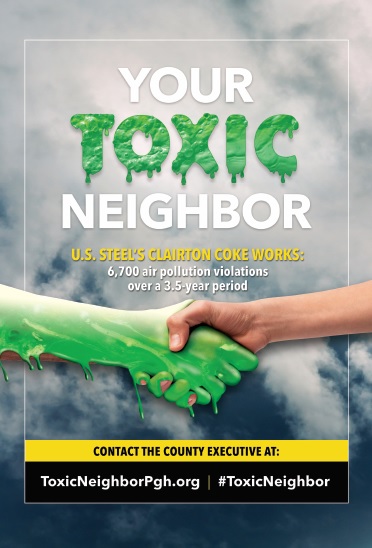 The second focus of the campaign is in the North Hills of Pittsburgh, with billboards targeting pollution from Shell Global's massive petrochemical plant in Beaver County. The billboard advertisements encourage citizens to visit www.toxicneighbor.org, where they will learn facts about the toxic emissions that will result from this plant, along with a petition to sign that will be sent to elected officials and business leaders currently championing the plant.
"Our entire region is being affected by investment in dirty energy, which does nothing but harm our children and families," said PennFuture President and CEO Larry J. Schweiger. "Shell received a $1.65 billion tax break to develop its petrochemical plant, which means the hard-working taxpayers of Pittsburgh are paying to have their children's air polluted."

The highly subsidized petrochemical complex is supposed to bring 600 permanent full-time jobs to the area, which equates to a subsidy of $2,670,000 per job. The plant will emit three times the pollution level of Clairton Coke Works. The State Department of Environmental Protection approved water permits for this plant based on outdated regulations rather than requiring the industry to comply with 2010 limits on the discharge of total dissolved solids.
U.S. Steel's Clairton Coke Works has a long history of violating air pollution standards and laws. The Allegheny County Health Department, which is part of County Executive Fitzgerald's administrative responsibilities, has not adequately penalized this repeat offender.
"Fitzgerald's administration responded to these infractions with little more than a slap on the wrist in fines and settlements that do nothing to stop the violations," said Matt Mehalik, Executive Director of the Air Quality Collaborative. "This Toxic Neighbor sickens the nearly 37,000 people living within three miles of the plant. But its pollution does not remain stagnant - it travels, impacting other areas of our county and city, especially its river valleys, affecting all 1.4 million people in Allegheny County."
Dr. Ned Ketyer, a lifelong pediatrician and member of the Air Quality Collaborative, raises many of the health concerns surrounding these types of air pollution.
"We know from decades of research that these emissions make people sick with cancer, asthma, heart disease, strokes, and raises the risk of premature death. A recent study from my colleague, Dr. Deborah Gentile, found that Pittsburgh schoolchildren who are exposed to high levels of air pollution have nearly three times the rate of asthma compared to the national average," Ketyer said. "Allegheny County ranks #3 in the country for cancer rates that come from pollution sources like these plants."
PennFuture's goal with the #ToxicNeighbor campaign is to raise awareness about these two industrial facilities, engage more clean air advocates and influence elected and business leaders to make better investments in clean energy. The campaign asks citizens to contact decision makers through a variety of approaches, including letters and a petition.
"PennFuture's goal with this campaign is to inspire and motivate new groups of people to become activists who fight for clean air with their votes, with their attendance at key community meetings, and with their voices," Schweiger said.
The Toxic Neighbor Campaign initially runs from Oct. 4 through the end of November in both the North Hills and the East End. For more information, please visit www.toxicneighborpgh.org and www.toxicneighbor.org.
PennFuture is leading the transition to a clean energy economy in Pennsylvania and beyond. We are protecting our air, water and land, and empowering citizens to build sustainable communities for future generations. For more information, visit www.pennfuture.org.
Contact:
Stephanie Rex
PennFuture Director of Communications
rex@pennfuture.org
412.463.2942