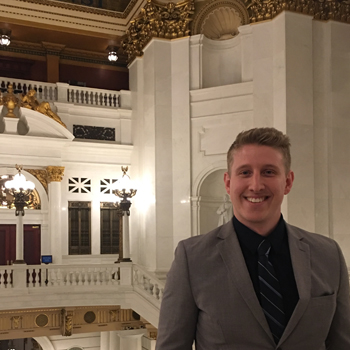 717-214-7935
nezat@pennfuture.org
Taylor Nezat is a native of south central Pennsylvania and serves as PennFuture's Campaign Manager for Watershed Advocacy. In this role, Taylor leads high-impact campaigns around water issues affecting Pennsylvania's environment in the Susquehanna and Potomac (Chesapeake Bay) watersheds. His work focuses around developing and leading campaigns that generate citizen action to create and improve policies, and protect Pennsylvania's local waters and public health.
Prior to joining Pennfuture, Taylor served as a graduate assistant at Pennsylvania's Department of Environmental Protection (DEP). During his tenure with the DEP, Taylor worked in the policy office under the direct supervision of the policy director and regulatory coordinator. Some of his work included analysis of the Phase III Watershed Implementation Plan and water withdrawal fees for Governor Tom Wolf's policy office.
Taylor received his master's degree in Public Administration in May 2017, and his bachelor's degree in History and minor in Political Science in May 2015. He is a proud member of Pi Alpha Alpha, the global honor society for public affairs and administration.