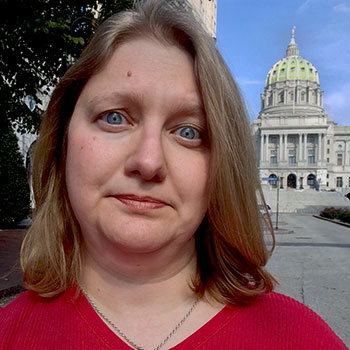 chopp@pennfuture.org
717-214-7923

Susan has been with PennFuture for over a decade. She manages and maintains the organizations constituent records, membership information, and information technology infrastructure. She also works closely with outreach and communications on website maintenance and email communications. She is a resource for staff logistical needs, acts as a vendor liaison, and is often a first point of contact for general inquiries from the public.

Susan continued her professional development to earn her degree in graphic design at Harrisburg Area Community College, where she graduated Phi Theta Kappa. Prior to coming to PennFuture, she worked as a call center administrator at Earthlink, the national internet service provider, as well as an accounting clerk in the printing industry and a child care provider.

When she has spare time, Susan enjoys gardening, doing crafts, hiking, cheering on her son's soccer team and spending time with family in Maryland & New Jersey.